From The Web - India
Gujarat Energy Transmission Corp. (Getco) has approached NCLT's Ahmedabad bench to recover its dues in excess of ₹827 crore from Essar Steel
The government has put its ambitious solar power capacity addition plan on a fast track, asking the state-run Solar Energy Corporation of India (SECI) to bring tenders to install 4,000 megawatt (MW) solar power capacity in four months to February 2019. The government has asked SECI to bring 1,000 MW tenders every month from November 2018 to February 2019, in order to expedite the process of capacity edition amid criticism over unmet targets, The Indian Express reported.
The proposal to add 4,000 MW of solar capacity is, however, unlikely to help in meeting the government's target of 1 lakh MW of solar capacity by 2022, The Indian Express report said. India has an installed solar energy capacity of 25,000 MW.
The move comes with an assumption that the code of conduct for the next generation election will be enforced in March next year. The solar capacity that is expected to be commissioned in the current financial year is 4,165 MW, while the total of 4,740 of solar capacity is likely to be commissioned during the next financial year 2019-20, the newspaper said.
In 2015, the then power minister Piyush Goyal had said that the government has a target of having 175 gigawatts (GW) of renewable energy capacity, which would comprise 100 GW from solar power, 60 GW from wind power, 10 GW from biomass power and 5 GW from small hydropower, by the end of 2022. One GW is equal to 1000 MW
During the financial year 2010-11, just 1030 MW of solar power capacity was installed and by October 31, 2017, it has risen exponentially to 15,605 MW. By March 31, 2018, India has installed a solar capacity of 22 GW, according to estimates of Ministry of Renewable Energy.
Meanwhile, as the capacity has risen, the per unit rate has fallen. In the financial year 2010-11, the lowest tariff of solar power was reported at Rs 17.91 per unit. while the lowest tariff at which a solar project was bid in the last financial year ended on March 2018 was at Rs 2.44 per unit.
Between the financial year 2019 and 2023, the solar power capacity is likely to go up to 56-58 GW as against 20 GW between the financial year 2014-2018, showed a report published in July by CRISIL.
India's biggest gas utility GAIL India is considering acquiring all of the wind energy assets held by a subsidiary of troubled shadow bank IL&FS, according to people familiar with the matter.
GAIL India is looking to buy 775 megawatts of wind energy assets from IL&FS Energy Development Co, a unit of Infrastructure Leasing & Financial Services (IL&FS), and has approached investment bankers to advise on a possible deal, the people said, asking not to be named as the talks are private.
The discussions are at a preliminary stage and a decision to bid hasn't been made, they said.
A deal will give the state-run company an opportunity to add to its existing renewable energy portfolio of 129 megawatts and help offset emissions.
For IL&FS, the asset sales are key to revive the beleaguered shadow lender whose payment defaults have sparked fears of a contagion across the financial system in the country.
An IL&FS spokesman declined to comment, while GAIL's spokeswoman didn't immediately respond to emailed queries.
GAIL had $451 million of cash, cash equivalents and short-term investments as of March 31, according to data compiled by Bloomberg. The wind energy assets held by the IL&FS unit are about 2% of the country's installed capacity in the segment.
IL&FS's newly formed board said at the end of last month that resolution options could broadly involve significant capital infusion, asset sales and debt restructuring at group, business vertical or asset level.
The government last month took control of the troubled shadow bank, promising to end the group's string of defaults.
MUMBAI: Subhash Chandra promoted Zee Entertainment Enterprises (ZEEL) decided to run a share-sale process after a global media giant made an offer to buy into India's leading satellite broadcaster, Chandra's son and ZEEL's chief executive and managing director Punit Goenka has told TOI.

Zee Entertainment, in which promoters last week announced plans to sell up to half of their 42% holding, has asked advisers Goldman Sachs and LionTree to open up the process to only select suitors, Goenka added. He said the promoter family had no plans to exit the business, although several investment bankers believe the promoters might agree to ceding control, if not outright sale, at the right price.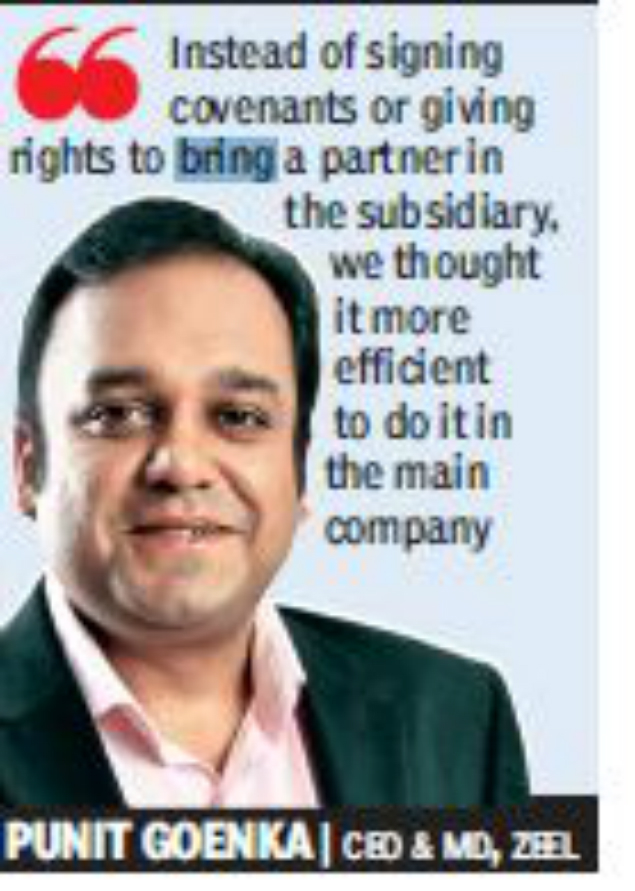 "We were approached by a global media company to buy into Zee Entertainment recently. The promoters then decided to open up the sale process since we would do it only once in a lifetime, and didn't want to get it wrong," Goenka said during a free-wheeling chat. He said Zee had run a process to induct a strategic or financial partner in Zee5, its over-the-top (OTT) platform, but the potential investors sought covenants with the parent that owns the content.

"Instead of signing covenants or giving rights to bring a partner in the subsidiary, we thought it more efficient to do it in the main company," Goenka said, while adding that Zee5 was approaching 50 million unique users and looking to become an OTT leader in the near future. Star India's Hotstar has over 100 million users currently.

In previous reports, TOI has named Comcast, Reliance Industries, Charter Communications, Sony, Alibaba, Google and Apple as potential suitors. Goenka said the promoters would give greater weightage to the nature of strategic partnership than value-maximisation in the share-sale process. A foreign buyer, though allowed to own 100% in entertainment media companies, would want a local partner and management team to run operations in a complex, multi-lingual market, he indicated.


The Zee Entertainment chief wouldn't be drawn into discussions about valuation. Goenka, however, said a deal was unlikely at the current share price, which pegged the company's valuation at around Rs 42,000 crore, or $5.8 billion. The Mumbai-headquartered company is tracking an EBITDA, or operating profit, of about $350 million this fiscal. As reported by TOIearlier, the current deal frenzy in a consolidating global media industry — driven by the convergence of content and telecom — has pushed valuation to 20 to 25 times EBITDA. This could peg ZEEL's valuation at anywhere between $8 billion and $9 billion.
In July this year, Disney acquired a swathe of Rupert Murdoch-led 20th Century Fox's businesses, including Indian assets, for a stunning $71 billion. Analysts believe Murdoch's Star India operations could have accounted for up to $15 billion of the overall valuation. If a Comcast or another global telecom-cumcontent giant were to buy into Zee, it would reset the Indian media convergence narrative, even for Reliance Jio.
Goenka said Zee has no ambitions in telecom, and wouldn't pursue a merger from that perspective. "We understand that that ship has sailed long ago," he said, even though last year the group was approached with some fleeting offers in a sector that's been bleeding profusely. "We want to remain a content company with enough technology and distribution clout to be a global player," Goenka said.
He said that a section of the market was reading too much into the group's debt hangover — estimated at over Rs 11,000 crore — and the fact that around 59% of the promoter holding in Zee Entertainment was pledged to lenders. "We have already sold our transmission business. In the next one quarter, we'll be divesting solar and roads portfolio, which will fetch us about Rs 8,000 crore conservatively," he said.

Subcategories